Shulin District, New Taipei City, Taiwan, May , 2021 –EVERLIGHT sets new expectations for Automotive interior lighting follow general trends in lighting toward hundreds and even thousands of RGB LEDs per car.

EVERLIGHT has officially become a member of the ISELED Alliance, which is to develop intelligent RGB LED technology for automotive interior and provide innovative solutions for automotive lighting. With the continuous global technology evolution and the transfer of the automotive industry to digitalization, vehicle interior lighting has grown substantially to improve the user experience. In order to comply with the ongoing trend smart innovation research and development, EVERLIGHT employs ISELED to release EL SMARTLED (XI3534-RGBIC0321L-AM) with an embedded IC. The new XI3534 smart LED has installed a driver IC from Inova Semiconductors in the new designed package structure in addition to the three color chips (red, blue and green).

Key features of the XI3534 includes:
–          Active Thermal Management in LED device
The driver IC enables the direct calibration of LED in the memory and compensate the thermal drop for red color automatically. It is mounted in bottom side of the lead frame.
–          Free up more possibilities for the Light module design concept.
The RGB rays glow from delta chip orientation in the top side of the lead frame. The integration of controller IC and LEDs in one package save the space and interconnections for PCB design in compact interior space.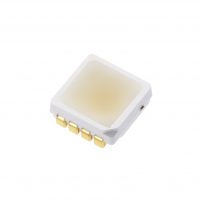 The XI3435 LED device will be available soon this year globally. Followed by the planned schedule below.
| | | |
| --- | --- | --- |
| Stage | Available Schedule | Remark |
| Datasheet | End of June | Datasheet & Ray file available |
| Application Note | End of Aug. | Application note available |
| MP | End of Nov. | PPAP |